Victims in the U.S. reported $547 million in losses to romance scammers in 2021. The impact reaches and affects everyone in our communities; It is also estimated only 15% of romance scams are ever reported.
What is a Romance Scam?
Romance scams occur when a criminal adopts a fake online identity to gain a victim's affection and trust. The scammer then uses the illusion of a romantic or close relationship to manipulate and/or steal from the victim.
The criminals who carry out romance scams are experts at what they do and will seem genuine, caring, and believable.
If someone you meet online needs your bank account information to deposit money, they are most likely using your account to carry out other theft and fraud schemes.*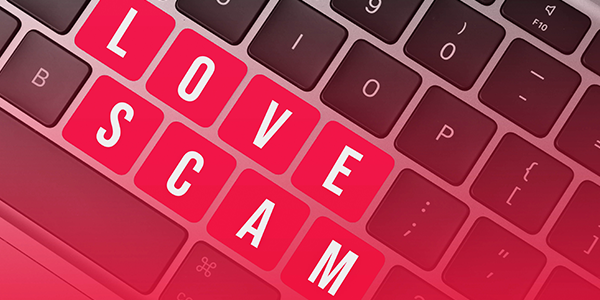 Key Points & Red Flags
Love is sweet, but scammers are NOT! Here are some red flags to be on the lookout for:
Someone asks to start communicating by text or personal email, away from the original site
Claims to be from the U.S. but currently working abroad or serving in the military
They profess their love early on, claiming it was "destiny" or "fate" to meet
They give vague answers to questions
After gaining trust, they start telling stories of bad luck or illness
Suddenly there is a personal crisis, and they pressure their victim to provide financial assistance; be especially wary of aggressive language or threats.
Your team at First Bank & Trust, a division of HTLF Bank is here to help protect you from these types of fraud and schemes.
*Source: FBI.gov